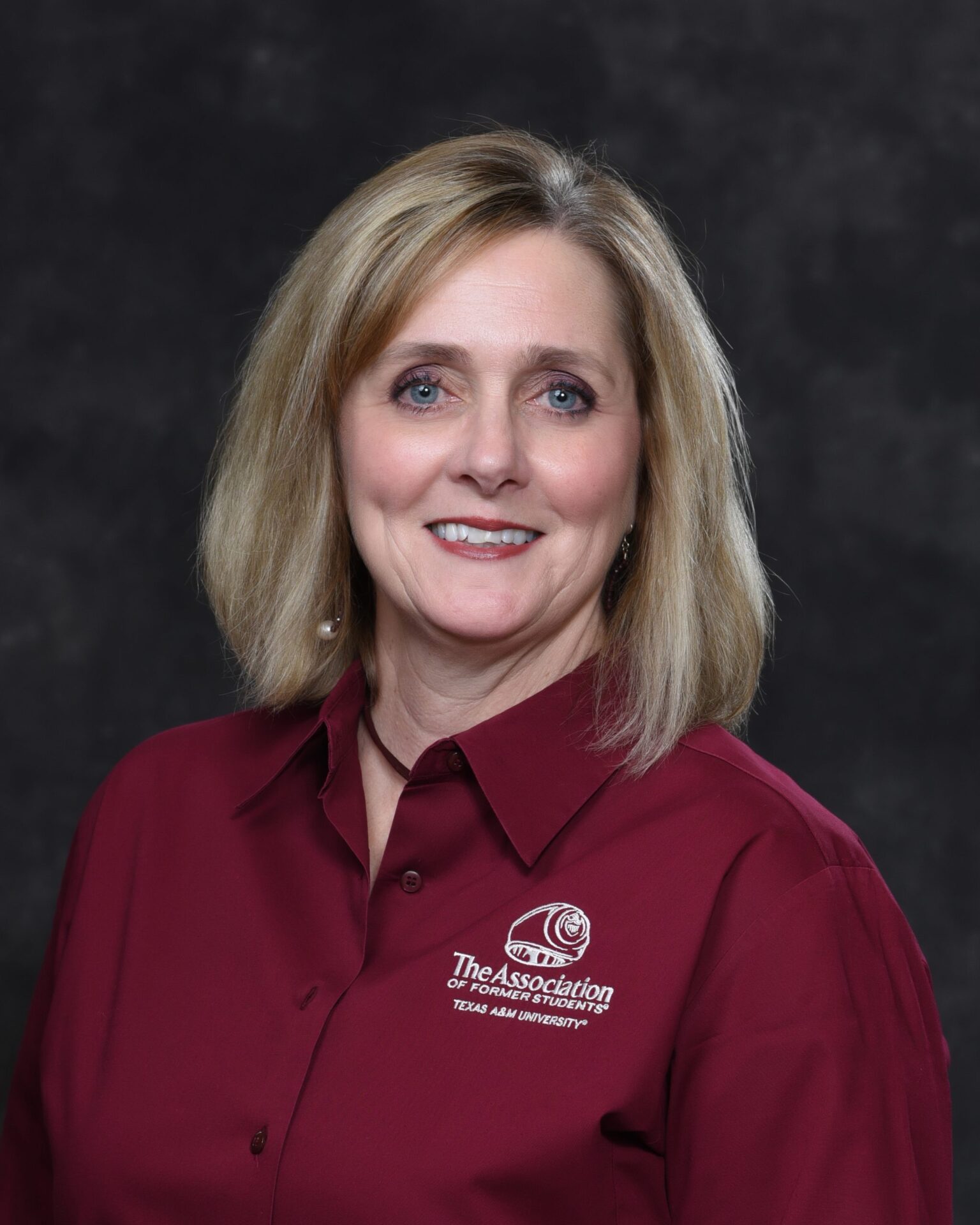 Kathryn Greenwade '88
Kathryn Greenwade '88, PHR (Posthumously)
Vice President, Communications and Human Resources
The Association of Former Students, Texas A&M University
Kathryn Greenwade '88 served as Vice President for Communications and Human Resources for The Association of Former Students of Texas A&M University. She led The Association's communications functions, human resources, advocacy teams, and Campus Programs, including the Aggie Ring Program. A third generation Aggie, Kathryn earned her bachelor's degree in journalism in 1988, a graduate certificate in leadership education theory and practice in 2019, and maintained the Professional in Human Resources Certification since 2000. Prior to joining The Association team in 1999, she led the Former Student Career Services program for the Texas A&M Career Center, and worked in the fields of marketing and training.
A former president of the board of directors of Habitat for Humanity Bryan-College Station, she gave generously of her time to the Brazos Valley Figure Skating Club, The Ronald McDonald House, and Aggieland Humane Society, among many others. She was a Fish Camp namesake in 2000 and two time outstanding academic mentor of the year during her 13 years mentoring Corps of Cadets Company C-2. She was dedicated to helping her team grow and advance, especially young women, and they described her as successful and unfailingly kind, a compassionate servant-leader with a strong moral compass, a fierce advocate, a mentor and a friend.
She supported programs across Texas A&M, sponsored numerous students to Fish Camp, hundreds of students' first year Century Club membership, and purchased multiple Aggie Rings. The embodiment of the Aggie Core values, she made a profound impact on Texas A&M and her legacy of philanthropy will continue at Texas A&M through her Endowed Century Club fund and the J. Walton Greenwade '30 Endowed Aggie Ring Scholarship, which she established at The Association.
Christine M. Hollinden '87
President
Hollinden Marketing Solutions, LLC
Christine Hollinden, CPSM, '87 is known for breaking barriers. Passionate about helping service-based organizations find success, her forward-thinking approach has earned her industry recognition and status as an award-winning marketing consultant and speaker. Prior to founding Hollinden in 1993, Christine's career includes running the marketing departments for the Houston offices of Grant Thornton, PWC, and KPMG. She holds a Bachelor of Science in Business Administration from the University of Houston at Victoria, and Master of Business Administration from Texas A&M University. Additionally, Christine holds the Certified Professional Service Marketer designation.
Christine has a few other firsts to her name. First female president of the Texas A&M MBA/MS Association, first woman to help regenerate the Aggie entrepreneurship program, first female Advisory Board member of the McFerrin Center for Entrepreneurship, and the only female Board member of Aggie Angel Network. In addition, Christine helped create the Aggie 100 program, including designing its highly recognizable logo and trophy. Her business has been recognized on the Aggie 100 four times, as well as numerous other fastest-growing lists including the UH Cougar 100, Houston Fast 100, and Fastest Growing Woman-Owned Businesses. She helped form the Houston Aggie Women Networking group and was fundamental in its leadership for many years. Christine is a frequent judge for competitions such as the TAMU Engineering Showcase, Raymond Ideas Challenge, MBA Venture Challenge, Texas A&M New Ventures Challenge, and the Rice Business Plan Competition, among others.
She also serves on the Board of Directors of the 5 Buckets Foundation for financial literacy, Board of Directors of the Texas Business Hall of Fame Foundation, and leads the Houston Chapter of the Alliance of M&A Advisors. In her spare time, she is an avid golfer and is the Houston chapter president of Chaîne des Rôtisseurs, the oldest wine and food society in the world, and a member of the burgundy wine society, Chevalier du Tastevin.
Note: Chaîne des Rôtisseurs is pronounced shin deh ro ti sirs.
Christine Hollinden '87