The Aggie Women Network has released an annual commemorative wine label in partnership with the Messina Hof Wineries, a business founded by an Aggie Woman, since 2016.  Each year we release a red blend and a white blend, and the proceeds benefit the Aggie Women Network's programs and operating costs.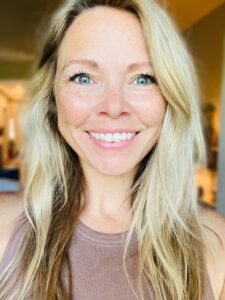 The AWN is inviting all Aggie Women to showcase their artistic talent by entering the 2023 Aggie Women Network Wine Label Artist Competition.  The winning artwork will be featured on the 2023 Aggie Women Wine Label, sold through our partners at Messina Hof Winery. The winner's original artwork will also be featured as a silent auction item at the AWN Women's Leadership Reception.
Our 2023 winner: Meredith Arledge '02
Meredith Arledge is an artist, teacher and sexual assault advocate living in Bryan, Texas. She has lived much of her adult life overseas, and has always been fascinated by the depth and complexity of the global human experience. Her watercolor portraits are a reflection of our shared humanity. Her piece is an original watercolor on paper which has then been digitally layered with a background color. The final product will be printed on 8x10 aluminum and will be an original piece with no other copies.
With the theme "excellence in leadership", this portrait represents tender strength, intuition, vulnerability, and extreme generosity. 
Congratulations to Meredith and her amazing artwork!