Celebrating the Aggie Women Who Stand Apart
The work of Texas A&M women has bettered the community around them and contributed to the lasting legacy of the University.
Held annually on the First Thursday in September, the Women's Leadership Reception celebrates these distinguished women, honoring their impact. Attendees hear from female student leaders as well as prominent campus leaders. The Leadership Reception is a collaborative effort between the Aggie Women Network, the Texas A&M University Women's Resource Center and the Messina Hof Winery & Resort.
All proceeds from the event directly support Aggie Women Network programs.
The 2021 Women's Leadership Reception will be held on Sept. 2 from 5:45 - 8 p.m. at the Messina Hof Winery & Resort in Bryan, Texas. The reception will feature exciting speakers, opportunities to network, a silent auction and chance to win, photograph opportunities and delicious food.
Register Today
Registration includes a drink ticket for a glass of wine or sparkling grape juice.
Event Cost
Aggie Women Network Members and current Texas A&M University Students: $5
All others: $10
Virtual Event
If you are not able to join us for the in-person event but would like to hear from our amazing speakers, please use the link below to sign up for our virtual reception hosted on Zoom webinar.
The virtual reception will begin at 6:30 p.m. and is free of charge.
Sept. 2
5:45 p.m.  - 8 p.m.
Messina Hof Winery & Resort in Bryan, Texas
Agenda
5:45 p.m.

Doors Open
Networking Time
Chance to Win Live

6:30 p.m.

Welcome
Panel

7:30 p.m.

Silent Auction Winners Announced
Chance to Win Winners Announced
Closing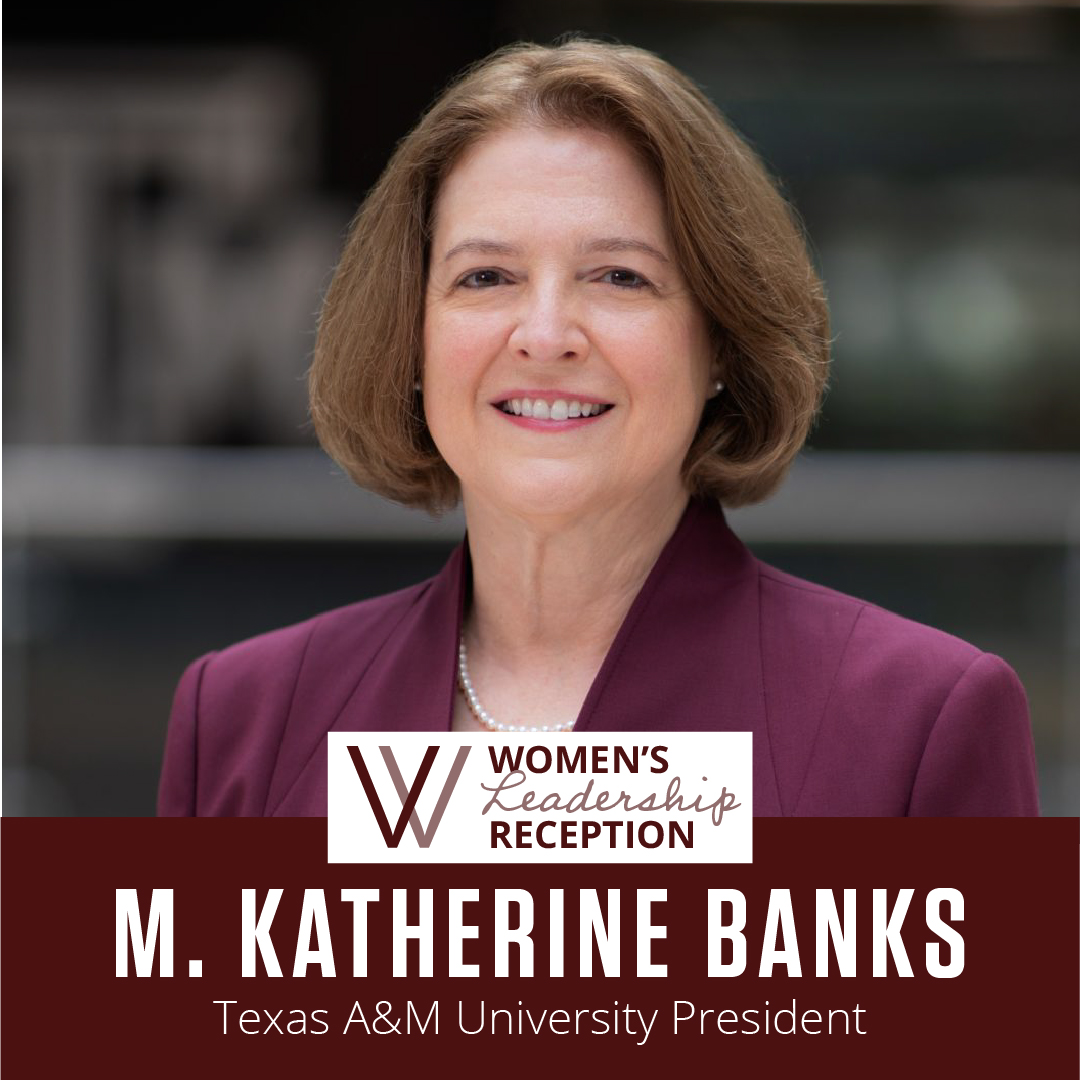 M. Katherine Banks is the 26th president of Texas A&M University, one of the largest universities in the United States with more than 71,000 students and 10,000-plus faculty and staff members. She also serves as Vice-Chancellor of National Laboratories and National Security Strategic Initiatives for the Texas A&M University System through her involvement with Los Alamos National Laboratory and the George H.W. Bush Combat Development Complex at the RELLIS campus.
Before June 1, 2021, Banks served for nine years as vice-chancellor of engineering and dean of Texas A&M's College of Engineering. She coordinated and collaborated with the engineering, academic, and research programs at seven universities throughout the Texas A&M System and three state agencies. Those entities include the Texas A&M Engineering Experiment Station (TEES), the Texas A&M Engineering Extension Service, and the Texas A&M Transportation Institute.
Banks also served as TEES director, overseeing research administration, technology commercialization, and technology workforce development. Between the engineering agencies, she had oversight of $310 million in sponsored research. As dean, University Distinguished Professor, and holder of the Harold J. Haynes Dean's Chair in Engineering, Banks led one of the largest engineering schools in the country with 21,000 students and 700 faculty.
The longtime national leader in higher education established Texas A&M's Engineering Medicine program, EnMed, an engineering medical school program designed to educate physicians who will create transformational technology for health care.
Cynthia Billington '87 is the director for the Experience Team at Mays Business School, where she develops and supports alumni, donor, and corporate relations engagement initiatives. She will also be the 2021-22 Chairperson for the Texas A&M University Staff Council.
Billington is a certified Academies Strength Coach, Professional Career Coach, Employment Interviewer, and Resume Writer designee and has more than 30 years of experience at Mays.  She joined Mays' Graduate Business Career Services in 2004 to create and implement the career advising program for the Master of Science students, then transitioned to MBA career coaching in 2009. She held that position until she transitioned to her role with the Experience Team in 2016.
Billington currently serves as treasurer for the Aggie Women Network and membership chair for the Association for Business School Alumni Professionals. She is a past board member of the National Association of Colleges and Employers, where she has served in numerous leadership positions since 2002.
She is a three-time recipient of the Mays Business School Outstanding Staff Award (two individual awards and one team award) and received the 2011 Texas A&M University President's Meritorious Service Award. She has been an executive volunteer with the Prison Entrepreneurship Program since 2005 and was also a 2000 Texas A&M University Fish Camp Namesake.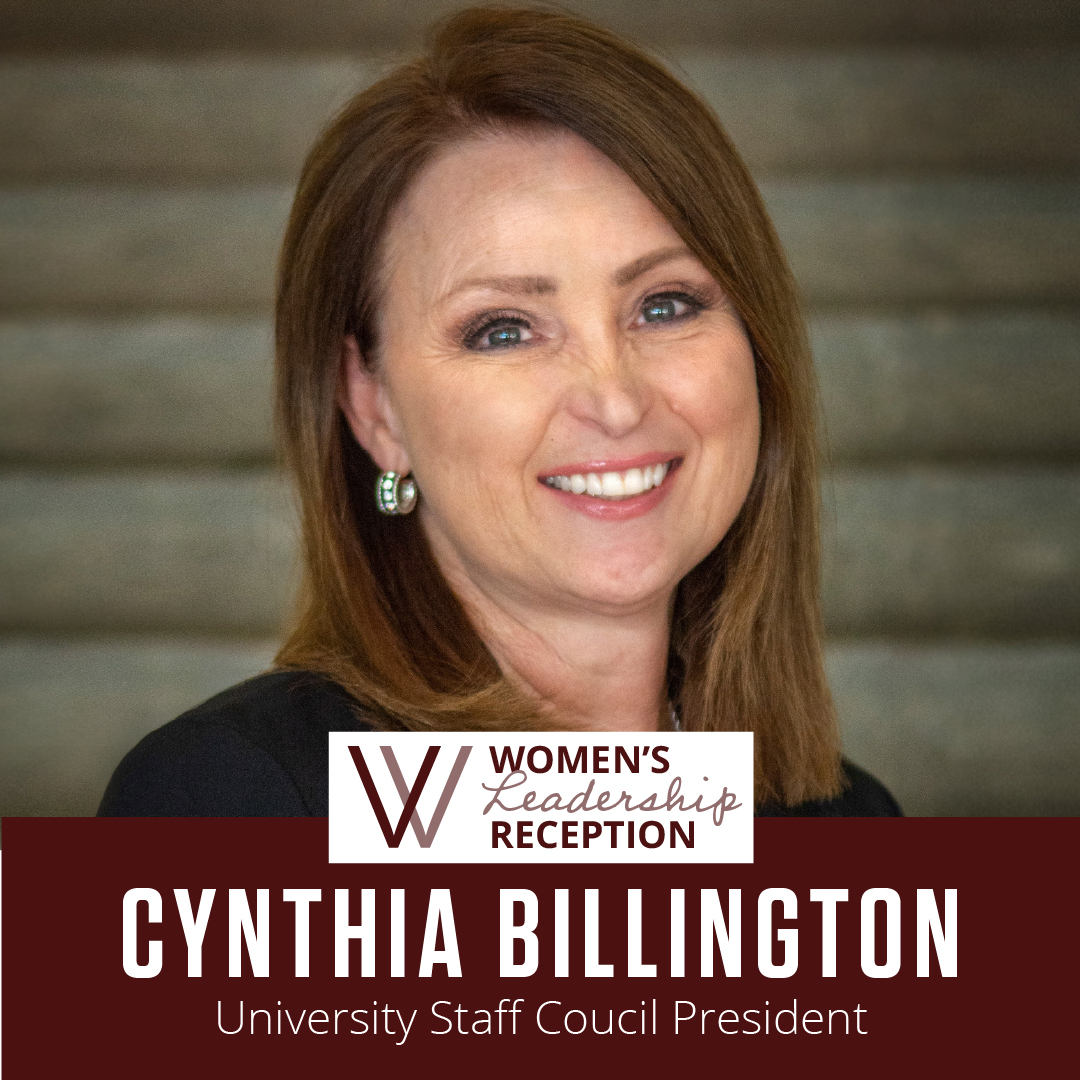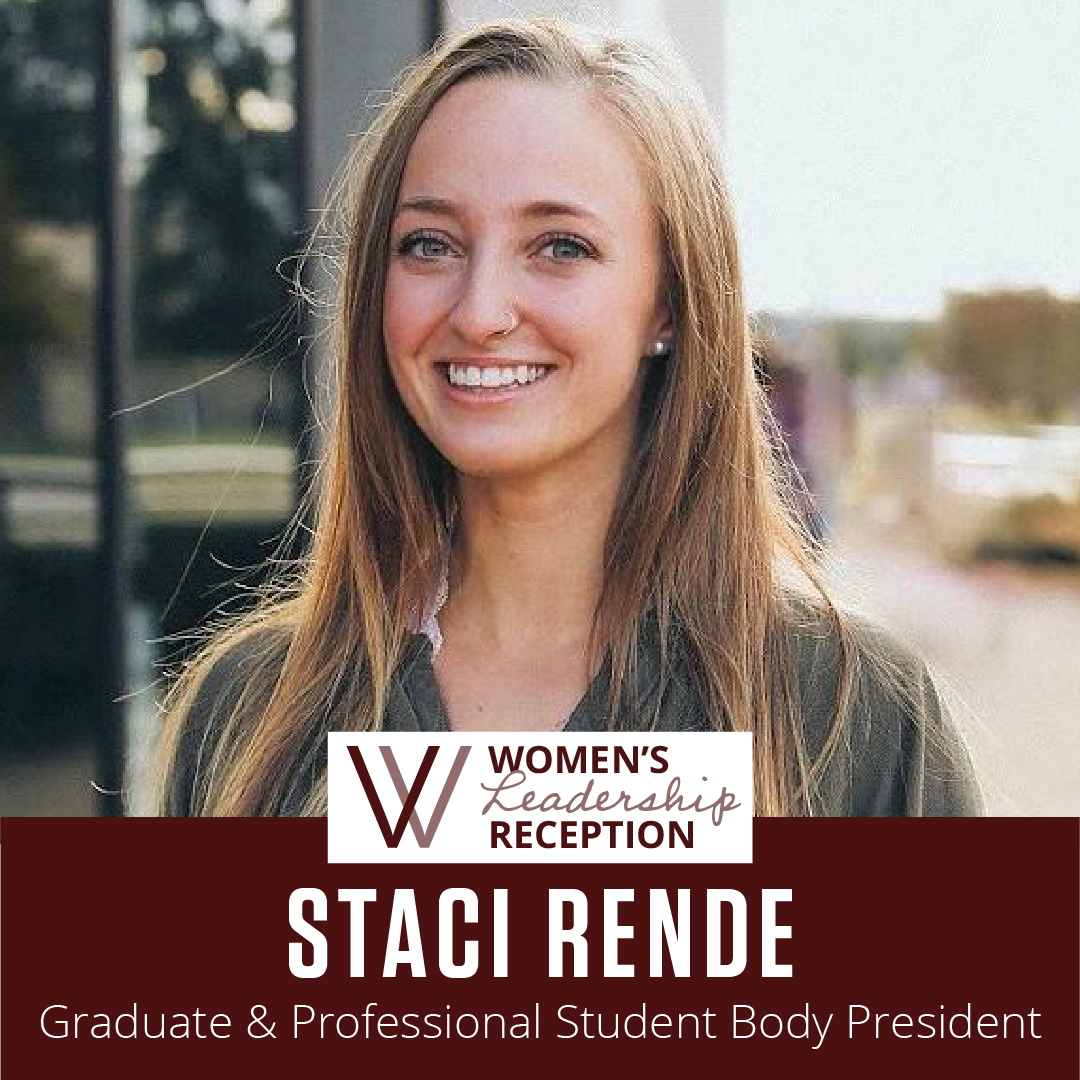 Staci Rende '19 is the Student Body President for Graduate and Professional students at Texas A&M University. She is currently pursuing a Master's in Sport Management with a certificate in Advanced International Affairs with an emphasis in Intelligence from the Bush School. Previously, Staci received her Bachelor's in Sports Conditioning with minors in Business and Coaching from Texas A&M University. Over the years, Staci has recognized her passion for service after sitting on multiple executive boards and committees, including GPSG, BTHO Harvey, the Collegiate Panhellenic Council, Hazing Prevention Task Force, Grad Camp, and her sorority, Alpha Delta Pi. You will find Staci outdoors with her friends and family or at the gym during her free time. She loves encouraging others to discover their passion and watching those around her grow into strong, confident leaders.
Natalie Parks '22 is the Student Body President for Undergraduate Students at Texas A&M University. She is a Communication Honors major from Denton, Texas, and a loud and proud member of the fightin' Texas Aggie Class of 2022! Natalie is humbled to have the opportunity to pursue positive change at Texas A&M University through her current capacity as Student Body President. She is extremely passionate about giving back to the Aggie community through endeavors of servant leadership and selfless service, as exemplified by her past campus leadership positions as the Junior Class President, Executive Vice President of the Collegiate Panhellenic Council, Vice President of Community Service for Kappa Delta Sorority, Vice President of Communication for the Student Government Association and Assistant Director for several Class Councils traditions. Natalie is a 2020 recipient of the Buck Weirus Spirit Award and endeavors to utilize her passions of communication and selfless service as vehicles to influence positive and progressive change in the world.