Celebrating the Aggie Women Who Stand Apart
The work of Texas A&M women has bettered the community around them and contributed to the lasting legacy of the University.
Held annually on the First Thursday in September, the Women's Leadership Reception celebrates these distinguished women, honoring their impact. Attendees hear from female student leaders as well as prominent campus leaders. The Leadership Reception is a collaborative effort between the Aggie Women Network, the Texas A&M University Women's Support Services and the Messina Hof Winery & Resort.
All proceeds from the event directly support Aggie Women Network programs.
The 2023 Women's Leadership Reception will be held on Sept. 7 from 5:45 - 8 p.m. at the Messina Hof Winery & Resort in Bryan, Texas. The reception will feature exciting speakers, opportunities to network, a silent auction and chance to win, photograph opportunities and delicious food.  Back by popular demand, we are hosting this event at TWO Messina Hof Winery satellite locations.  One in Richmond, TX and a second in Grapevine, TX.  The satellite will be live from Messina Hof Winery in Bryan, TX. Grab a friend and join in the fun!
Sept. 7
5:45 p.m. - 8 p.m.
Messina Hof Winery & Resort in Bryan, Texas
Agenda
5:45 p.m.

Doors Open
Networking Time
Chance to Win Live

6:30 p.m.

Welcome
Panel

7:30 p.m.

Silent Auction Winners Announced
Chance to Win Winners Announced
Closing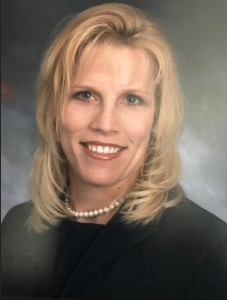 Cheri Steensma Morgan, '89 - Aggie Women Network  President  &  Director - Bimbo Bakeries USA
Accomplished professional with extensive experience driving top-line, leading high-performing teams and growing client relationships within a global CPG company. A self-directed, strategic thinker with a consistent, quantifiable record of anticipating customer and market requirements, solving complex business problems and implementing efficient and effective, profit accretive solutions. A motivational leader who sets clear goals and creates a culture of high performance through open communication, team work, and high morale. A trusted advisor whose tenacious and influential management style resonates at all levels within and outside the organization.  Cheri lives in the Colorado and is currently a Director of Sales for Bimbo Bakeries. She is also a member of the Network of Executive Women in CPG with responsibility for the Mentoring committee in the North Texas chapter. Cheri played volleyball at A&M and is extremely passionate about Aggie Athletics. In her spare time, she loves to visit her son in California, travel and teach fitness classes at LifeTime.
Joni Taylor -  Women's Basketball Coach, Texas A&M University
Texas A&M named 2021 SEC Coach of the Year Joni Taylor as the eighth women's basketball head coach in program history on March 23, 2022.
Taylor succeeds hall of famer Gary Blair and is inheriting a program that is one of eight schools in the past 20 years to have a national title. Over the past 19 seasons, the program won five conference titles and reached the NCAA Tournament 16 times.
The Meridian, Mississippi, native spent the first seven years of her head coaching career leading the Georgia women's basketball program. She amassed 140 victories with a .651 winning percentage and 64 wins in SEC play. Taylor took the Lady Bulldogs to four NCAA Tournaments, including top-four seeds in 2018 and 2021.
Taylor was named the SEC Coach of the Year and a finalist for the Naismith Coach of the Year after leading her team to a 21-7 record and 10-5 ledger in SEC action in 2020-21. She was the youngest coach of the year honoree in the SEC since 2010. In 2021, Taylor led the Lady Bulldogs to the SEC Tournament Championship game for the first time since 2004. Taylor, and South Carolina's Dawn Staley, became the first pair of African American female head coaches to coach against one another in the SEC Tournament title game.
She coached four players who were taken in the WNBA Draft, with Jenna Staiti and Que Morrison having an opportunity to add to that number in this year's draft. She mentored the program's only three SEC Scholar-Athlete of the Year selections (Marjorie Butler – 2016, Haley Clark – 2018, Mikayla Coombs - 2022). Taylor saw a Lady Bulldog featured on the conference all-defensive team in each of her seven years at the helm of Georgia, including Morrison, who earned three all-defensive selections and was the 2021 SEC Defensive Player of the Year. Taylor led 19 players to All-SEC selections during her run at Georgia.
Taylor is no stranger to succeeding legends. She served as an assistant from 2011-12 under women's basketball hall of famer Andy Landers and was eventually elevated to associate head coach from 2012-15. After Landers' retirement, Taylor took over the program as its second head coach in school history. Taylor went on to produce a 21-10 record in her first season as head coach and won the 2016 Maggie Dixon National Rookie Coach of the Year honor.
Before Georgia, Taylor served as an assistant coach at LSU (2010-11), Louisiana Tech (2005-07) and Troy (2002-05), and as an associate head coach at Alabama (2008-10) and Louisiana Tech (2007-08). At LSU and Alabama, Taylor helped recruit top-five prospects in 2010 and 2011, respectively. She carried that recruiting prowess into her career as a coach, where she signed three top-15 classes in the last four seasons, including the No. 7 signing class in 2022.
On the international level, Taylor has served USA Basketball on a variety of occasions. She started off as a court coach at the 2018 USA U18 National Team Trials and then won gold as an assistant with the 2021 U19 World Cup Team. Most recently, Taylor won gold as an assistant coach for the USA Women's National Team at the 2022 FIBA World Cup and when she head coached the 2022 USA Basketball Women's U18 National Team to a 6-0 mark in Buenos Aires, Argentina.
A four-year letterwinner at Alabama (1998-01), Taylor earned her bachelor's degree in education in 2002. She helped lead the Crimson Tide to four postseason runs and recorded 716 points, 555 rebounds and 103 blocked shots, which ranks fourth in the Crimson Tide's record book.
While at Alabama, she was recognized as one of the most influential African Americans on campus in 2001, earned three SEC Community Service honors (1999, 2000, 2001) and was awarded a post-graduate scholarship from the SEC.
The Meridian High School product was the 1997 Mississippi Gatorade Player of the Year. She also won three state titles in track & field and was selected as the school's Homecoming Queen.
Taylor and her husband Darius have two daughters, Jacie and Drew.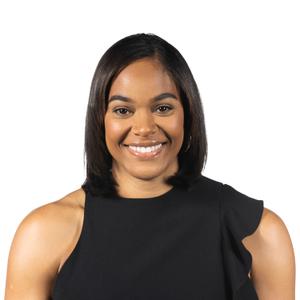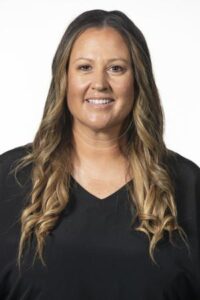 Trisha Ford - Women's Softball Coach, Texas A&M University
Twelve-year head coaching veteran and four-time conference coach of the year Trisha Ford was hired as the softball program's 10th head coach on June 7, 2022. Ford comes to Aggieland following a six-year stint at the helm of Arizona State.
"Trisha Ford is viewed as one of the very best softball coaches in the country and has done a phenomenal job at every stop in her career," Director of Athletics Ross Bjork said. "College sports is about recruiting, player development and helping the student-athletes reach their full potential on and off the field and we discovered that Coach Ford epitomizes what it takes to lead at the highest level. As two-time coach of the year in the Pac-12, a Pac-12 champion and Women's College World Series coach, she knows what it takes to consistently compete for a championship. The more time we spent with Coach Ford, we realized that her grit, work ethic, passion, knowledge of the game, recruiting plan and connections all around the softball universe are a perfect fit for Texas A&M. We are excited to welcome Trisha, Eddie, Emma and EJ to Aggieland."
Over her head coaching career, Ford has amassed a 397-226-1 (.686) record at Saint Mary's (CA), Fresno State and Arizona State, including a 212-89 (.704) ledger with the Sun Devils. She has twice been named the Mountain West Coach of the Year (2015, 2016) and the Pac-12 Coach of the Year (2018, 2022).
Ford earned her second Pac-12 Coach of the Year honor last season after guiding ASU to its 17th-straight NCAA Tournament and the program's 28th-consecutive winning season. The Sun Devils won their third Pac-12 Championship and first since 2011, winning a program-record 20 league games.
"First and foremost, I want to thank Ross [Bjork], Kristen [Brown] and Jeff [Toole] for the opportunity to lead the Texas A&M softball program," Ford said. "After spending time with them and talking about their vision for the program, it was clear our values aligned. You can feel the pride and tradition that runs through Aggieland. My family and I will embrace it and I can't wait for us to become a part of the community.
I also want thank Jo [Evans] for being not only a tremendous ambassador for our sport, but for the legacy she built at A&M. I am looking forward to embracing what she has built here and continue to move it forward. For me, this is a tremendous opportunity. Texas A&M is a place that is very special and the core values of A&M line up with mine both on and off the field. I have been on the other side of the 12th Man. They are a fan base that is envied across the entire country, and I am looking forward to seeing them at Davis Diamond. I am excited to put an elite product on the field and to hit the ground running."
In six seasons with the Sun Devils, Ford mentored five All-Americans and 20 all-conference selections, including eight in 2022. Cydney Sanders earned Pac-12's Freshman of the Year and NFCA First Team All-America honors, while Arizona State's four first team selections were the most for the Sun Devils since 2012.
In 2018, Ford was named the Pac-12 Coach of the Year following a season that saw ASU make its 12th NCAA Women's College World Series appearance. The Sun Devils finished the year with a 48-13 ledger that included a 16-8 mark in Pac-12 play. The 48 victories that season marked the most wins in a single season for ASU since winning 50 in 2013.
Prior to arriving in Tempe, Ford served a four-year stint as the head coach at Fresno State from 2013-16. She led the Bulldogs to back-to-back Mountain West Conference championships in 2015 and 2016, and was named the MWC Coach of the Year both years. She led the Bulldogs to consecutive 40-win seasons that included a 2016 campaign that saw Fresno State go 42-12-1 with an incredible 22-1 mark in MWC action. The Bulldogs went unbeaten that season through the month of April and recorded a then-nation-leading 23-game win streak, setting a school record for consecutive victories.
Ford spent nine years as an assistant coach with the Stanford Cardinal (2004-12), including four seasons as associate head coach. She helped guide Stanford to its greatest run in school history and a 385-155 (.713) overall record.
Prior to joining Stanford's coaching staff, Ford spent two seasons as the head coach at her alma mater Saint Mary's College.
Arguably one of the best softball players in Saint Mary's history, she is the only female student-athlete in school history to have her number (9) retired.
Ford graduated from Saint Mary's with a degree in politics in 1999 and was inducted into the Gaels' Hall of Fame in 2007. A native of Fremont, California, she earned nine varsity letters in softball, volleyball and basketball during her prep career at American High School.
Ford and her husband, Eddie, married in the summer of 2005, and have two children, Emma and EJ.
Hannah Payne '22 & '24 - Texas A&M University Graduate and Professional Student Body President
Hannah Payne is a second-year Master of Public Health student and currently serves as the Graduate and Professional Student Body President.
During her senior year at Texas A&M Hannah served as the Senior Class President. She helped create programs for students such as Aggie Mental Health Day, to promote and connect students to improved mental health. Bags by Ags which produce over 200 care kits for Twin City Mission. Hannah hopes to continue community service projects and unit the student body.
At this conference, she looks forward to sharing her insights on embracing innovation, developing high-performing teams, and navigating the evolving business landscape.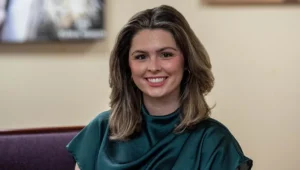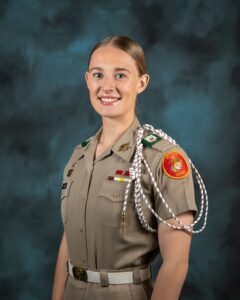 Caitlynn Walsh '24 - Corps Commander, Texas A&M University
Caitlynn Walsh is a Senior at Texas A&M University, pursuing a Bachelor of Science degree in Political Science. She is from Double Oak, Texas and is the eldest of five sisters. Caitlynn joined the Corps of Cadets at Texas A&M as a member of Company D-1 in the Spring of 2022 after transferring from the U.S. Coast Guard Academy. She served as the Corps Sergeant Major during the 2022-2023 academic year and will serve as the Corps Commander for the 2023-2024 academic year. As Corps Commander, Caitlynn is the senior most ranking cadet in the Corps and is ultimately responsible for the actions and activities of over 2,200 cadets. She is also an active member of the Ross Volunteer Company, which serves as the official honor guard for the Governor of Texas. After graduation, Caitlynn plans to commission as an officer into the Marine Corps.