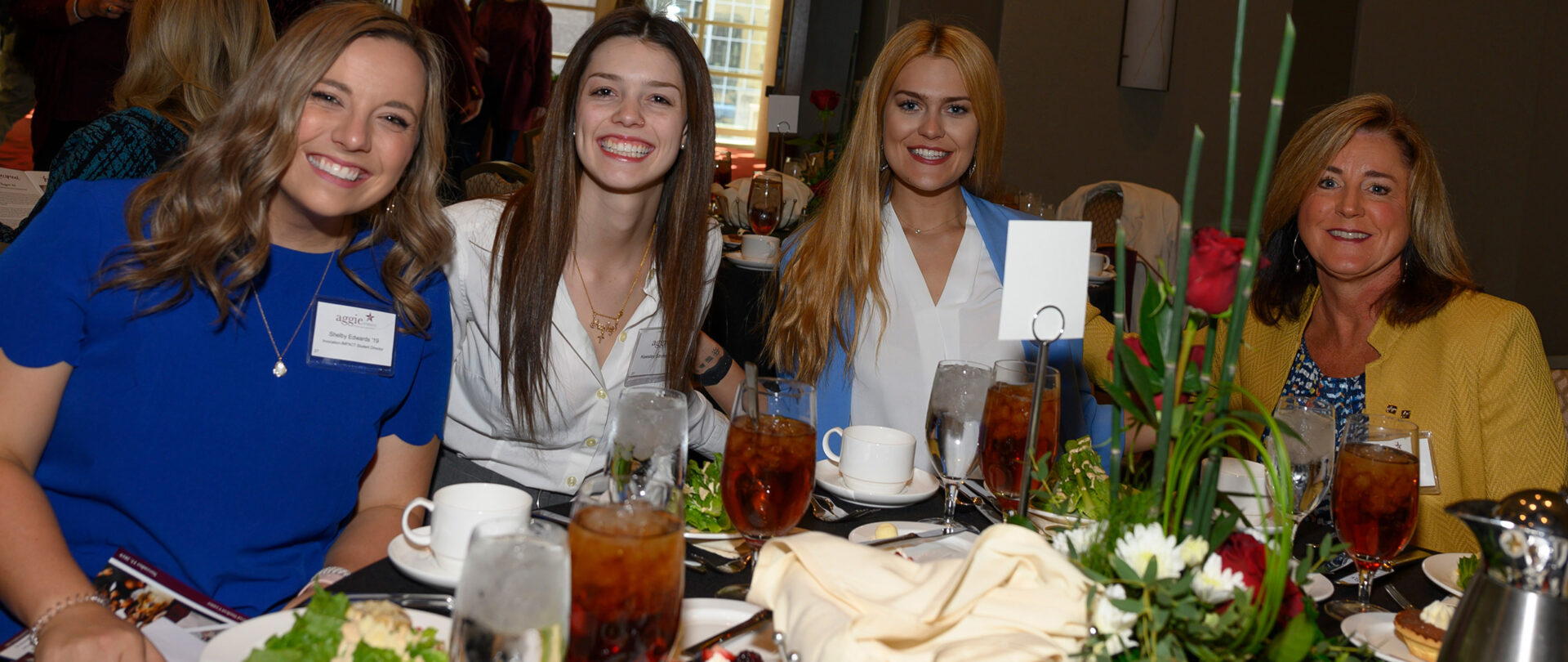 There is nothing like an Aggie Women Network event. Our events not only create lasting memories, but they forge unforgettable connections.
Be a part of those connections and engage with us.
Upcoming Events
September 2021
9/1/2021 - Beyond the Books:  Aggie Women Authors
9/2/2021 - Women's Leadership Reception - Messina Hof @ 5:45 pm - Register Here
October 2021
10/1/2021 - Distinguished Alumni Gala (Table of 8/$500 each) Email Shelly Peters if interested in a seat at the table.
10/7/2021 - First Thursday Speaker Series: Developing Mental Resilience (In-Person) - Register Here
10/28/2021 - Aggie Women Network VIP Reception @ Messina Hof - (Invitation Only)
10/29/2021 - Aggie Women Network Awards Luncheon - Register Here
November 2021
11/4/2021 - First Thursday Speaker Series: LinkedIn: Putting Your Best Foot Forward (Virtual) - Register Here
11/12/2021 - Mays Women's Leadership Conference - Reinvent Your Narrative: Leading with Strength and Resilience - Learn More Here
December 2021
12/2/2021 - First Thursday Speaker Series:  Navigating Conflict and Challenging Conversations (Virtual) - Register Here
February 2022
2/3/2022 - First Thursday Speaker Series:  Keys to Success:  Networking and Mentorship (In-Person) - Register Here
March 2022
3/3/2022 - First Thursday Speaker Series:  In the Driver's Seat:  Empowerment Through Financial Literacy (Virtual) - Register Here
April 2022
4/7/2022 - First Thursday Speaker Series:  Essential Elements of a High Performing Team:  Communication & Trust (In-Person) - Register Here
May 2022
5/5/2022 - First Thursday Speaker Series:  The Skills to Lead:  Leadership is Learned (Virtual) - Register Here